The following is the story of the Kowatch family, the recipients of the fundraising efforts at DCW's Maggie Martinez Memorial Intergender Tag Team Invitational.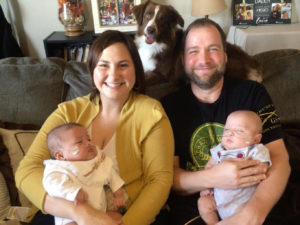 Tom and I have been on the adoption journey for 2 years. We were matched in December of 2017 only to have it fall through in February 2018. Our hearts were broken but we were confident the Lord had a little one out there for us. In March we felt led to pray and ask the Lord for specifics. So we began to pray for a little Asian girl (a desire the Lord put on my heart 13 years ago while in College). We boldly asked and believed even though only 2% of adoptions are Asian. I felt the Lord speak to me "Be Hopeful".
In March we received a call that there was a little Asian girl and that we were the only family being shown, we were filled with excitement only to be heartbroken again due to them showing one other family and they picked them. Once again we were heartbroken, probably more the second time since that is exactly what we prayed for. I was confused because I felt so strongly the word "Be Hopeful" and had exactly what we prayed for only to have it fall through. I then felt that the reason I felt so strongly about the message "Be Hopeful" was because God knew this needed to happen to set things in motion for our child. We decided to go on a trip to Oregon to have our hope restored, that trip did exactly that.
On April 20th we flew home and 10 minutes after we arrived home we receive a call that there had been twins ( a little boy and a little girl) born at 24 weeks and 3 days and they needed a home. They were ½ Chinese and ½ Caucasian and our adoption agency thought of us first since we made them aware that this is what we have been praying for. We were not given much information, only that there was an intended couple from China who came to America to have a baby. They used his sperm, chose an egg donor and chose a surrogate. The surrogate carried them but at 24 weeks she developed an infection in her placenta which caused her to go into premature labor. The intended couple said they wanted the children aborted because they only wanted full term healthy children. The surrogate knew she would not be able to live with herself if she aborted these children, so she took a stand and chose life for them even though she was unaware what would happen to her by going against the intended parents wishes. After hearing this, Tom and I quickly said yes and jumped on a plane to California.
We knew at that moment, these were our children and named them Noah: peace, calm, comfort and Norah: Honor. We were met with lots of adversity when we arrived in California but on April 25th the doors opened and we were able to meet them. We instantly fell in love, it felt as if I had given birth to them. Norah was 1 pound 9 ounces and Noah was 1 pound 11 ounces and they were perfect. We also found out that the surrogate was pumping and visiting our little ones daily to make sure they had the best nutrition to give them a fighting chance. We didn't know anything about their medical history before we had to make a decision about adopting them, but as mentioned before we knew these were our children so we moved forward uncertain of what their challenges would be.
We were blessed to have friends who lived in Oceanside who opened up their home to us. We stayed in California for 5 months while Noah and Norah were in the NICU, during that time we had the opportunity to be with them day after day and bond with our beautiful children. We had always prayed for Norah but Noah was our unexpected blessing that I never knew I needed but has filled a very special place in my heart, he's a momma's boy During their time in the NICU they were faced with many challenges. From the beginning Norah had a 75% survival rate and Noah had a 50% chance of survival. It didn't take long for us to see that our little ones were fighters and that the Lord had his hand on them and had a very special plan for them. During their time in the NICU they were both intubated, extubated, diagnosed with ROP(Retinopathy of prematurity), Chronic lung disease (on constant oxygen), Kidney problems and many other diagnosis but over time we clearly saw that they were fighters and they were overcoming with Jesus.
Noah has had two surgeries on his eyes and they are continuing to look at his retina because they were afraid it may detach. As of this week his eyes are looking great and believe he will only need to see the Retina specialist 1 more time. Noah also had surgery to repair his hernia. Since arriving home they have been doing really well but we have specialist appointments 2-4 times a week in Dallas. They are seeing specialist for all of the complications they had in the NICU and will continue to monitor over the next several years.
We have been so blessed to be chosen as Noah and Norah's parents. They are such fighters. The surrogate (our birth mom) is still very involved in their lives. Our family has grown, not only by two little ones but also by a woman who selflessly chose life in spite of the repercussions. We have been tremendously blessed!
— Casey Kowatch
If you would like to support, tickets for this event are below