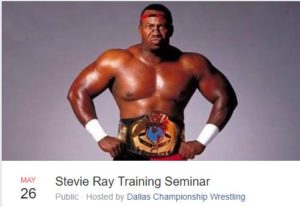 The Stevie Ray Seminar is being put on by Dallas Championship Wrestling and is being hosted in the facility of & by DFW All Pro Wrestling Academy.

***This Seminar is for Professional Wrestlers, Managers, Valets, Referees and individuals currently in training or those in In Training for these positions ONLY. This event is not open to fans. Thank you for your understanding***

Training Seminar with 10X WCW World Tag Team Champion & 1 half of Harlem Heat, Stevie Ray.
Pay in advance via our website and the cost is $15.00. Pay the day of and the cost is $20.00
Promotional Codes will be given to local Professional Wrestling Schools to use via our website for special discounts.
In order to get the $10.00 rate with your school's promotional code you will have to purchase online in advance.